Stone ice cream machine: It is a live ice cream machine with refrigerated marble top. The marble top of cold stone ice cream machine is set between -14 to -25 ºC.  It is used to make sundae and other frozen desserts live in from of guest.
Hindstone is brand of cold stone ice cream machine manufactured by Hindchef. We have wide range of Ice cream stone machine with starting price Rs. 28000 + GST (mini machine) and varies according to size and features. We have supplied cold stone machine all over India.
---
Stone ice cream machine models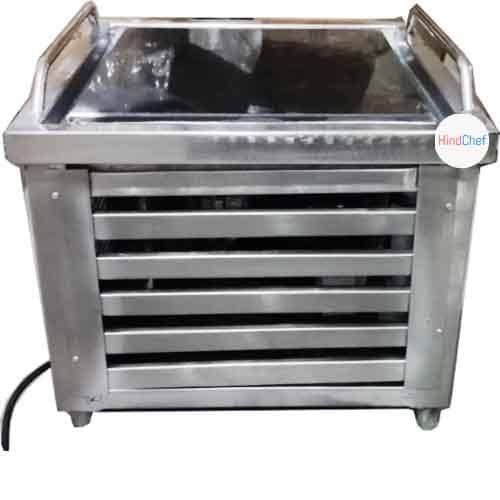 Model Name: Mini stone machine
Stone Size: 18inchx 18inch
Body material:
 stainless steel
Features:
Portable, lower power consumption
Compressor:
LG (or equivalent)
Price:
Rs 29000 +GST
Description:
This machine is best suited for a small outlet. It can also be a good option if you want to have one spare machine of urgent need. Some caterers also use this machine for ease of portability.
Send Enquiry
---
Available Size of Stones (Standard):
18 x 18 inches
24 x 18 inches
36 x 18 inches
36 x 24 inches
Apart from standard size, you can also specify custom size and design. Custom machines expected dispatch time is 7 days. We delivered all over India at nominal charges.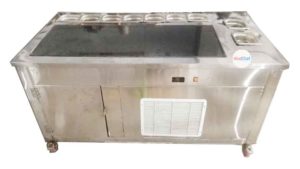 ---
Highlights of our Cold Stone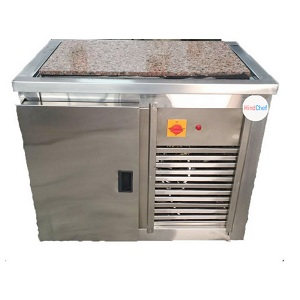 Pure Stainless steel body
LED temperature display (Optional)

A wide range of Stone Sizes, Option of custom stone size and colour.
We make Customized cold stones as per customer requirement.
We use high-quality stone for best performance and durability
We also use high quality compressor for faster cooling.
Option of machine with wheels for easy movement.
All machines are available with drainage for easy cleaning of stone.
Option to have mini storage/mini refrigerator below the machine.
---
Description
Cold Stone Ice Cream machine in Hindchef is different as it is not just a machine but it comes with reliability and durability. Our machine design is based exactly on our customers' requirement. It comes with stainless steel body which gives it a longer life and protects from decaying. The machine is portable and comes with wheels to make it move easily from one place to another.
Our Cold Stone ice cream machine comes with best compressors like LG or equivalent to consume less electricity and produce more. There is a warranty on compressor as well. A wide range of stone and its size is available. You can customize machine according to your requirement. Also, it comes with LED temperature display that is optional.
The machine can be customized according to the preference and choices in terms of color, size etc. Another feature is that it has a mini refrigerator below machine which keeps other ingredients safe and cool. Also, it is available with easy drainage and cleaning facility.
---
Working principle of machine
Use of stone in making and cooling flavored ice cream is a revolution in ice cream world. The stone used here of supreme quality and un-breakable. This can be made of granite or marble. Cold stone ice cream machine comes with perfect stainless steel body which increases its look and life. The working on our Cold Stone machine is quite simple.
The LED temperature display shows you the right set temperature of machine. This can be as high as 2 degrees and as low as -25 degrees. The ideal temperature to make perfect ice cream is -10 to -20 degrees. You can set aside flavors you need in set of 6 pans provided with stone. Other flavors can be stored cool and safe in a small refrigerator in machine.
---
Making Ice cream on cold stone

The cold stone ice cream making process experience gets better with Hindchef fine and high quality machine. We use supreme stone for best performance and durability which can be used to mix different flavors of ice cream with toppings. Set temperature from -10 to -20 degrees to get perfect ice cream.
The whole process is done with a metal knife which helps mixing the ice cream ingredients. Ingredients needed are ice cream with at least 10% butterfat, condensed milk, sugar, flavors and additives. Also, you can list the items you want as toppings. Mix well on stone to get flavors out of ingredients. When the fine mix of flavors is done, the creamy texture is served in a waffle cup.
Cold stone ice cream (Sundae)
Cold stone ice cream is a mix of ice cream with other ingredients like fruits, flavors, nuts, cookies etc. Cold stone machine is used as a platform to mix the ice cream with added ingredients. It prevents ice cream from melting while mixing the ice cream. You can also make sundae using cold stone ice cream machine. Generally gelato is used as base but you can also chose common brick type ice cream.
---
Scope of cold stone in India
Cold stone ice cream is considered a premium ice cream. It sells at a goods price. You can have cold stone as a main selling point or you can also have cold stone as a side item with gelato. It is recommended in upmarket area, food courts, malls etc. Some of our customers are putting cold stone machine along side roll machines, softy machine. If you choose a good area the scope of cold stone is very good.
---
Ingredients of cold stone ice cream

There are 2 types of ingredients in stone ice cream. First one being the Gelato (or other frozen dessert). Second main ingredient is topping.
Typical frozen dessert
Gelato: Most of the stone ice cream parlor uses gelato as base ice cream in cold stone.
Brick: Some vendors use ice cream bricks from various vendors. Brick is typically low or medium fat ice cream.
Other frozen desserts like French ice cream can also be used.
Typical topping items.
Fruits: Berries, Kiwi, mango, strawberries, blue berries etc are common fruits.
Dry fruits: pistachio, Cashew nut almonds (peeled), dry fruits can be used raw or fried.
Cookies:, cookies like Oreo, Chocko brownie, cakes, chocolates etc can also be added.
---
Cold stone ice cream menu

Frozen Yogurt
Sweet cream
Cheesecake
Coffee ice cream
Sweet Mint
Dark chocolate
Gems
Strawberry
Sweet chili
Black-current
There are many flavors in Cold stone ice cream which gives it a mouth watering taste. Many other new flavors can be made by trying new ingredients. This is because cold stone is all about trying and mix unusual flavors to make a great new taste.
---
Cold stone ice cream business
As cold stone ice cream is completely unique, its business is growing at a great pace. The scope of business in this field is very high. The mixing and making of new flavors is almost a never ending process that one can be involved in. From home products to the very nature delicacies, everyone likes the delicious mix.
The best part of the business is to serve what people love. There are new stores of specially owned cold stone Ice cream opening every year. There business is growing larger than ever. It involves low investment and high returns in no time. You can experiment with different ingredients to make unique cold stone ice cream store. Hindchef helps you to take your store ahead by giving training about products and use. Also, it helps in setting up the parlor which makes it easier for our customers to handle it. We are always ready to help our reliable customers with open heart.
Training
We provide training in making perfect Cold stone ice cream with different flavors. The free training is available in Delhi only. This includes the use of base ice cream with premix, techniques of mixing ingredients and to make a perfect flavor out of mix.
We also provide help in setting up Ice cream parlor. Training is also provided in Bangalore, Goa, Kolkata and Mumbai but this is chargeable. This training is provided by trained personnel. Details about new flavors will also be given in chargeable training. We give assistance in proper use of the machine with manual help.
---
Our Cold Stone Dealers in India.
We have cold stone dealers in New Delhi, Mumbai, Kolkata and Banglore. Our dealer can also help in getting staff training for your outlet. All our cold stone dealers are experienced ice cream vendors.
---
New Delhi cold stone dealer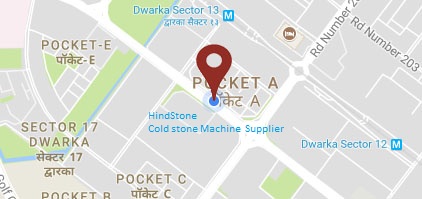 Address:
H- 16 First Floor , DSIIDC Complex
Udyog Nagar, Main Rohtak Road,
Near Udyog Nagar Metro Station (Green Line),
New Delhi 110041.
Call/Whatsapp: 9266-60-60-60, email : Sandeep@hindchef.com
---

Mumbai cold stone dealer
Address: Rolls and Swills, Near Ganpati Mandir,
Shop no.3 Dedhia Niwas, Chedda Road,
Dombawali East, Pin:- 421201
Contact: 9266-60-60-60 (Call/whatsapp)
Email: sandeep@hindchef.com
---
Banglore cold stone dealer

Address:No 304, 4th Main Road,
OMBR layout, Banaswadi,
Banglore Pin 560043
Contact: 9266-60-60-60 (Call/whatsapp)
Email: sandeep@hindchef.com
---
Kolkata cold stone dealer
Address: 369 lake gardens. Near Lords more. Kolkata 70032
(Adjacent to Baskins Robbins, South City mall road)
Contact: 9266-60-60-60 (Call/whatsapp)

Email: sandeep@hindchef.com
---
About company
Hindchef is a leading company that makes a Hindstone brand of Cold Stone Ice Cream machine. The machine comes with advanced features to ensure perfectness in taste and appearance to catch eye and heart of the customer. We supply Cold stone machine all over India and we have list of satisfied and happy customers. Our customer list is growing every year.
The main motto of Hindchef Company is not just to make a Cold Stone machine but to really make connection with customers for lifetime. For us, complete satisfaction of our clients is the priority. This is above just serving the customer, to please them by meeting their requirement and to open doors even after sales. We try to fulfill all the concerns of customers by giving them the best quality product. Our present customers are with us happily for a lifetime commitment and rely on our product and services.
---
---